ePropulsion aims to be the global leader in marine electric propulsion systems and services. ePropulsion is dedicated to providing high-quality electric outboard motors that are eco-friendly, quiet, and low maintenance. Used in the pleasure, fishing, and commercial marine markets since 2012, ePropulsion products have proven quality and performance. For more information, visit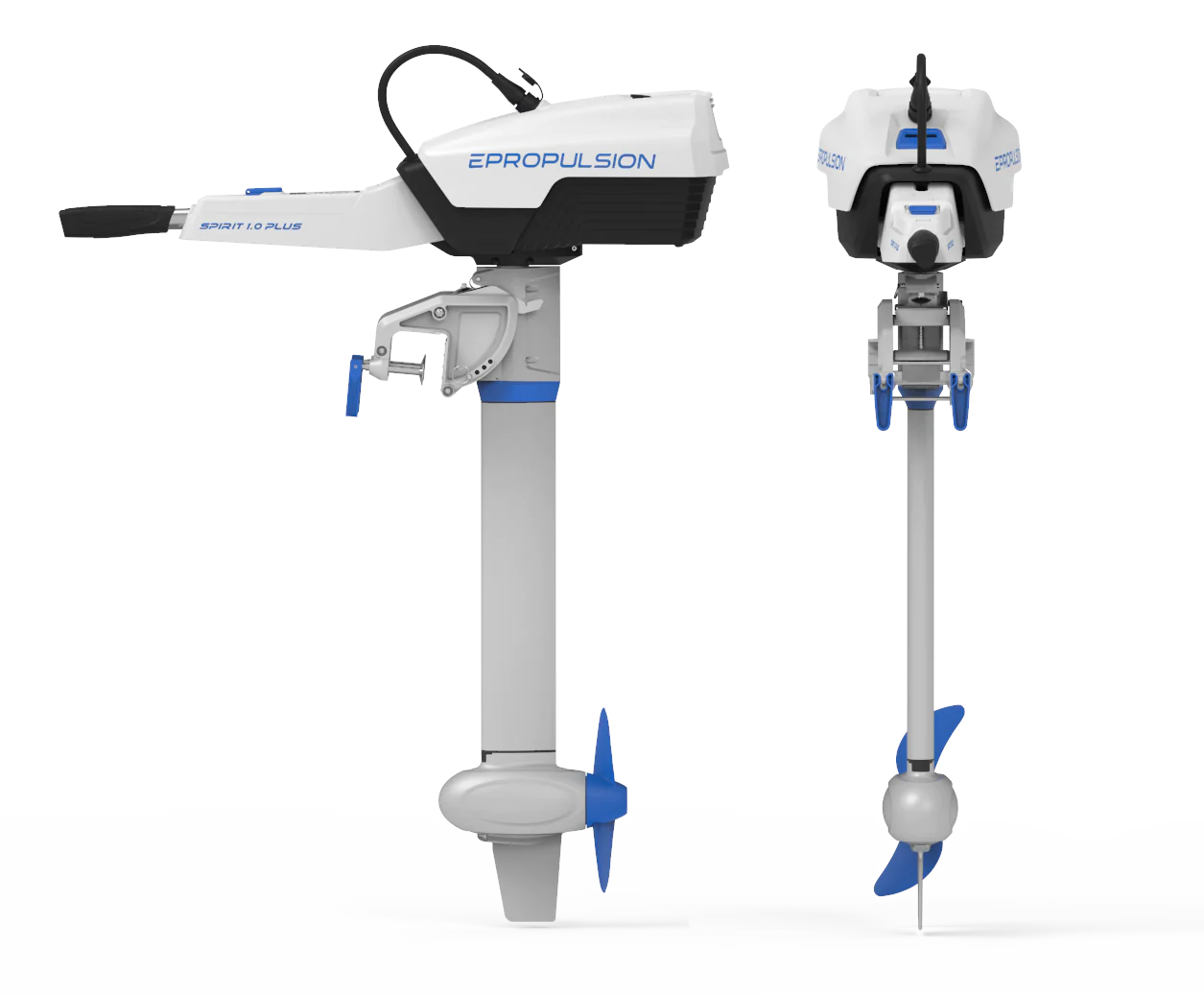 ePropulsion Spirit 1.0 Plus
The epropulsion  electric outboard Spirit 1.0 Plus is the latest and greatest that technology has to offer for an electric boat motor offering true outboard performance and  technology no trolling motor can match. Free from exhaust or oil and offered as a clean and efficient alternative to gasoline outboards. This electric outboard motor outputs 500 watts of propulsive power making it equivalent to a 3HP gas outboard and ideal for tenders, dinghies and sailboats. The 1,276Wh lithium-polymer battery used to power the motor allows for double the run time and charges within 6 hours. The SPIRIT 1.0 PLus is offered in three different shaft lengths and a patented clamp for maximum stability, making it compatible with most watercraft.The brushless DC motor doesn't require maintenance while offering supreme durability, efficiently and power for any trip. With a gear free design you can finally enjoy nature as it was intended, in peace and quiet.
Shop Now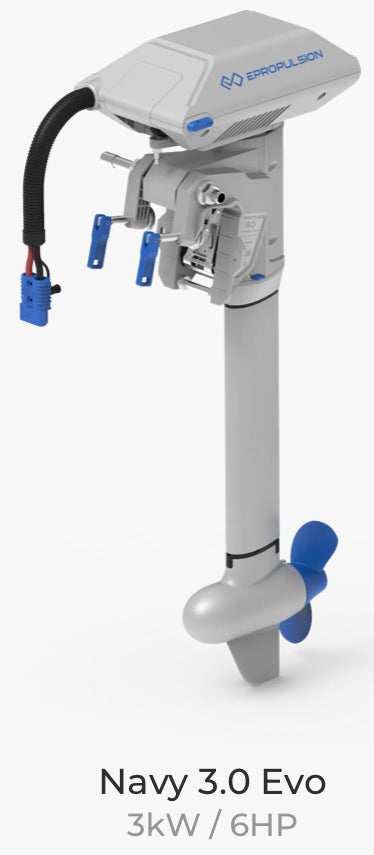 ePropulsion Navy 3.0 EVO
The ePropulsion NAVY 3.0 EVO is a 6HP equivalent epropulsion  electric outboard motor designed for performance and quietness and has hydrogeneration. The brushless DC motor inside the NAVY 3.0 is placed at the bottom and surrounded by water allowing direct and effective cooling, a similar configuration to the Spirit model. A gearbox free design eliminates noise and maintenance requirements, unlike trolling motor, commonly seen with gas outboard motors. The built-in motor protection slows or stops the motor when it collides with objects underneath the water. More time can now be spent enjoying the trip instead of spending hours or days with the beloved mechanic! When the NAVY 3.0 electric outboard motor is paired with a NAVY battery on a 12ft boat, it can run for 4 hours at half throttle (Battery NOT Included). All of these features unite to create an electric outboard motor that is perfect for cruising, fishing and sailing.
Shop Now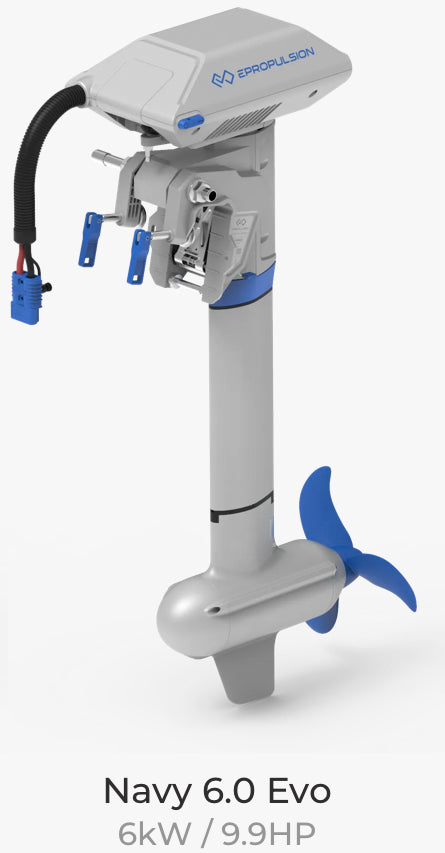 ePropulsion Navy 6.0 EVO
This 6000 watt epropulsion  electric outboard motor is an extremely powerful electric motor that is durable, quiet, emission free and has hydrogeneration. Its high efficiency and low noise design make it perfect for cruising, fishing and other activities. The integrated display provides you all the relevant information you want to know. Together with its high energy density lithium-ion batteries, it is capable of traveling far distances and for long durations.  
The integrated LCD display provides essential information including battery voltage, real-time propulsive power, remaining battery capacity, and remaining run time. With all the electronics sealed, the Navy 6.0 meets the IP67 ingress protection standard for waterproofing. Compared with the complex internal combustion engine, the BLDC (Brushless DC) motor system requires very little maintenance and is very easy to use. This ain't no trolling motor!
Shop Now
We provide an unbeatable combination of thrills and
cutting-edge technology to make your aquatic excursions unforgettable. With
ePropulsion's electric motors, you'll enjoy the benefits of
environmentally-friendly power while soaring through the waves at
lightning-fast speeds. Meanwhile, our experienced and professional crew will ensure
your adventure is safe and fun. Experience the thrill of adventure with SkyBlu
Adventures and push your boundaries to the limit. Explore further and discover
new horizons with epropulsion
outboards. Our high-quality, efficient electric motors are
designed to take unforgettable journeys through the water as you explore lakes,
rivers, and oceans. With SkyBlu Adventures, you'll have the opportunity to
fully immerse yourself in the beauty of nature and experience the ultimate adventure.


 

With their cutting-edge electric motors, we can take our
customers on thrilling excursions without harming the environment.
Epropulsion's outboards are incredibly reliable and efficient, so we can focus
on what we do best- providing unforgettable experiences. Whether you're new to
water sports or a seasoned adventurer, our partnership with Epropulsion will
take your experience to the next level. Navigating the water with an electric
outboard motor has never been more effortless.
This innovative technology ensures a seamless journey as you take on new
challenges and discover hidden gems. Whether you paddle along scenic coastlines
or cruise through choppy waters, ePropulsion outboards provide exceptional
performance and reliability. SkyBlu Adventures' team of professionals will
guide you every step of the way, ensuring a safe and memorable experience.